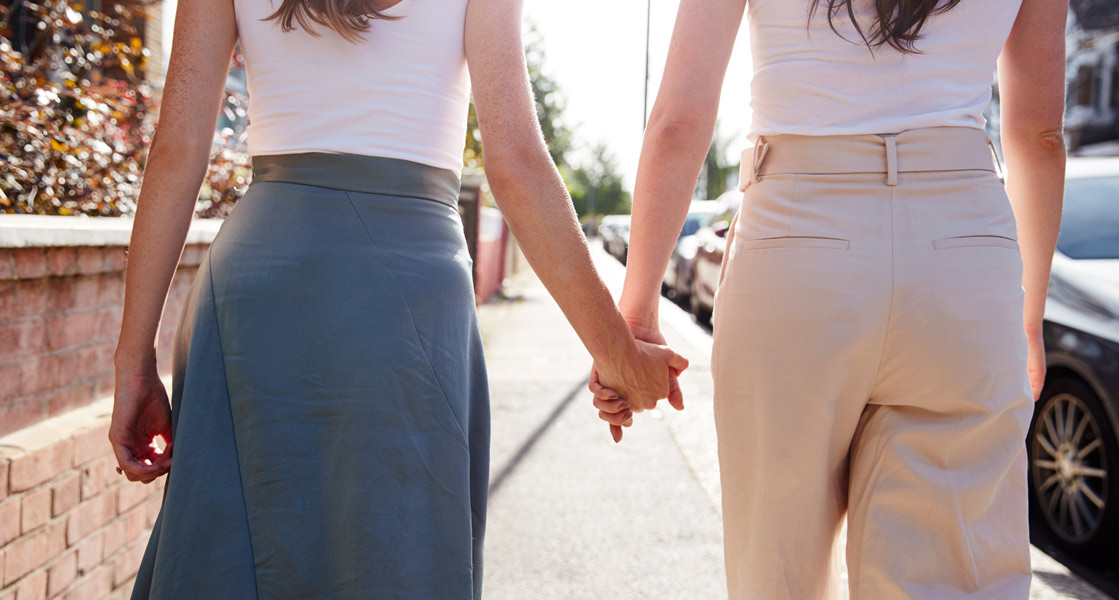 LGBT+ Fertility Treatments: Here's What You Need To Know About Having A Baby
There's no greater decision than the choice to have children. But for LGBT+ people, fertility treatments tend to come as standard. At the Fertility and Gynaecology Academy, we know that every family is different and has its own distinct needs. We work with a broad range of families and inclusive, sensitive patient care is key.
If you are an LGBT+ couple or individual that is ready to start a family, you're probably wondering: What's the best way forward? Here we lay out common paths to making your dream of a baby a reality.
In the UK, the number of LGBT+ receiving fertility treatments is rising swiftly, with more and more couples taking steps to have children.
Female Same-Sex Fertility Treatment
Female same-sex couples* will generally conceive one of two ways: Intrauterine Insemination (IUI) which is also often referred to 'artificial insemination', or In Vitro Fertilisation (IVF).
Either way, a sperm donation is required.
Male Same-Sex Couples: Having A Baby
For male same-sex couples, having a baby requires finding a woman prepared to carry the baby to term, either through surrogacy or a co-parenting arrangement. Here, we take a look at the most frequently asked questions.
Within this process, you can use the eggs of the surrogate ('partial surrogacy') or co-parent herself, or donated eggs (full surrogacy). With the first option (partial surrogacy or co-parenting), sperm will need to be inserted into the surrogate or co-parent's uterus (intrauterine insemination, or IUI), or the eggs and sperm will be mixed in the IVF lab, and then the fertilised egg will be put into the womb of the surrogate or coparent, to grow and develop (In Vitro Fertilisation, or IVF).
With partial surrogacy, the HFEA still recommends conducting the process via a licensed fertility clinic.
With full surrogacy the eggs will be retrieved from the egg donor and fertilised with the sperm in the IVF lab.  The embryo will then be replaced in the uterus of the surrogate mother who would be a different woman from the egg donor.
If there are found to be problems with the sperm or there has been failed or poor fertilisation in a previous IVF cycle, Intracytoplasmic Sperm Injection (ICSI) may be recommended. This process is the same as conventional IVF, except that sperm is micro-injected directly into mature eggs in the lab.
Sometimes gay couples seek a surrogate through friends or family, finding it helpful to conduct such a complex, intimate process with someone they already know and trust.
If this is not feasible or desirable, you'll need to search via other avenues. Here at the Fertility and Gynaecology academy we offer surrogacy treatment but we are not involved in recruiting surrogates – indeed legally no fertility clinic can. You'll need to conduct either a personal search or go via a specialist agency. You can read more about the surrogacy process at FGA here.
Many LGBT+ couples also set up co-parenting arrangements, whereby between two and four people organise fertility treatment for conception and then share custody when the baby is born.
Whether you opt for surrogacy or a co-parenting arrangement, there are crucial legal, emotional and logistical issues to work through, and it's imperative to be informed. You might find helpful signposting information here and here.
Information For People With Other Forms Of Sexual Orientation
Please also note that trans or non-binary people may have extra fertility considerations to think about because some treatments for gender dysphoria such as hormone therapy can affect fertility. You can read more about things to consider here.
Support On The journey
Like almost any attempt to make our deepest dreams come true, fertility treatment can be arduous and emotionally taxing for any couple or individual. For LGBT+ people there may be extra concerns and considerations, for example regarding co-parenting or surrogacy. So do reach out to friends, family, and helpful organisations to support you through the process.
* In the interests of medical clarity, we use 'male/female' and associated pronouns to refer to reproductive capabilities, realising of course that gender identification and expression can vary.
There's no greater joy than holding your baby in your arms. At the Fertility and Gynaecology Academy we're experts in helping to make that happen for any couple. To book a consultation with one of our expert team, call 020 7224 1880 or email info@fertility-academy.co.uk.
---