Undergoing fertility investigations and fertility treatment can be an emotionally trying time; we understand the importance of feeling 100% comfortable and confident that you're in safe hands when choosing a fertility clinic. And that's why we invite you to meet our talented team of fertility specialists here at The Fertility & Gynaecology Academy in London.
We hold regular clinic open days which you can attend for free, just register your interest and a member of our admin team will be in touch to confirm your place. This is a great opportunity to tour the clinic, chat to Dr Gorgy and the team. However, we're aware that it's not always possible to visit each and every fertility clinic you're considering, and so you can find out more about the clinic and meet some of our team below.
Sharon is our practice manager and she oversees the day to day running of the clinic. A qualified phlebotomist, Sharon has years of experience working for the NHS and also in the private sector. Sharon is supported by Akvile, our medical secretary, and Maria, our senior administrator who both assist in the day-to-day running of the practice to help ensure personalised care and high standards. When you call the clinic to book a consultation or reserve a spot at one of our open days, it's likely you'll be speaking to one of these ladies.
Many members of our team are bilingual and speak Arabic, Russian, Lithuanian, Italian and German, Philippino, Bulgarian and Spanish.
What Is The Fertility & Gynaecology Academy Like?
Many patients find fertility clinics have a very harsh, clinical feel and appreciate the more welcoming atmosphere of The Fertility & Gynaecology Centre. Our grand, Victorian building just off Harley Street in London is right in the heart of it all, making it easy to access via public transport.
When you arrive at the clinic you'll be welcomed by a member of our team in our cosy reception area. Here, you can make yourself at home and will be asked to complete a registration form before your appointment. On the walls you'll find cards, notes and photos from just some of the patients whom Dr Gorgy and the team have helped realise their dream of becoming parents.
We recommend arriving 20-30 minutes before your first appointment to complete the necessary forms. If the male partner is booked in to do so, they will need to produce a semen sample for analysis.
Your Consultation
Your appointment will be conducted in the consultation room with your consultant. Dr Gorgy, who is a world-renowned and highly respected fertility expert, is also Medical Director of the clinic, and has been practicing in fertility and assisted conception since 1994. Over the years, Dr Gorgy has seen patients from around the world, allowing him to understand and meet the needs of patients with varied cultures, customs and backgrounds. He has an empathetic, and compassionate approach. You can find out more about Dr Gorgy here on our website.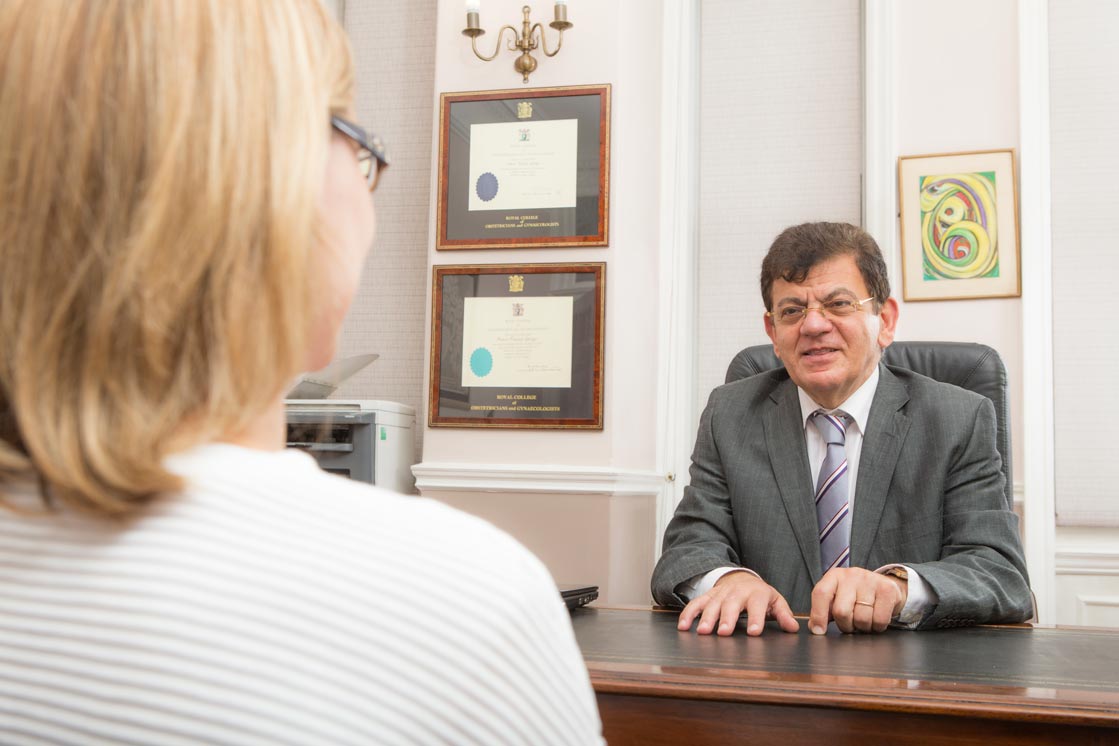 We always recommend that, to get the most out of your consultation, you bring any referral letters, documentation of previous investigations and treatment. An initial appointment will take around an hour and both partners may be required to undergo physical examinations and also blood tests or vaginal ultrasounds. Your consultation will allow time to put together a personal management plan for you and your individual situation.
It's so important that you understand any issues and the treatments and we strongly encourage you to come prepared with any questions and also to ask any questions you have during the consultation to ensure you fully understand. For further reading on pre-treatment advice and male and female infertility, please see Further Reading.
The Laboratory
Any laboratory work happens on site, just down the corridor from the consultation room in recently refurbished IVF suite which has state of the art equipment.
Our clinical team is led by laboratory manager, Mohsen. He utilises his wealth of experience to oversee our team of embryologists and nurses. Our embryologists support Dr Gorgy in fertility treatments are highly experienced at retrieving eggs, assisting with IVF, ICSI and embryo biopsy.
An essential part of our clinical team are our nurses. They are on hand to help throughout the entire patient journey, from explaining how to take medication, to assisting Dr Gorgy in theatre. All highly experienced, Nirmala and Prerna ensure personal care for each and every patient.
The Fertility & Gynaecology Academy is directly licensed by the HFEA and so whether you are trying to get pregnant, have had unsuccessful IVF, recurrent miscarriage or are wanting to freeze your eggs to preserve your fertility, you can feel confident that you've an experienced, caring team by your side to help realise your dream of becoming a parent.
Discover more about our fertility success rates and read more about the clinic and our team here. To speak with us about visiting the clinic for one of our open days, or booking a consultation, don't hesitate to give us a call on 020 7224 1880 and we will be happy to help.